Brea of Biewer Terrier Blessings (Sidnee)
 Multi National / International Champion (Brea of Biewer Terrier Blessings)  "Sidnee" has had an amazing show career and we are so proud of her.  This is her winning Best puppy at her first show.  She started her show career at the young age of 6 months in an IABCA show in Hutto Texas.  She won Best of Breed,  First in Group and went on to win Best Rare Breed Puppy in the show.  Since that time she has won Best Senior Puppy in BTCA Specialty in Orlando Florida, 8  Best of Breed, 4 Group one, several group 2 awards and been in Best of Show numerous times.
Sidnee is all grown up now and continues to win in the ring.  She has an amazing personality that continues to make us smile.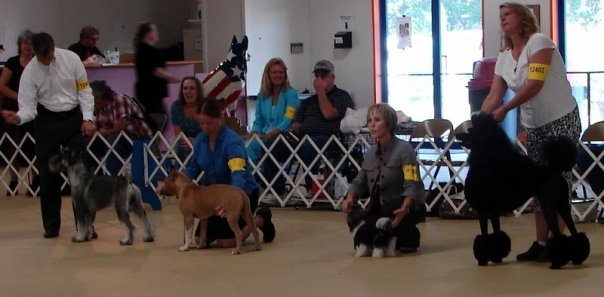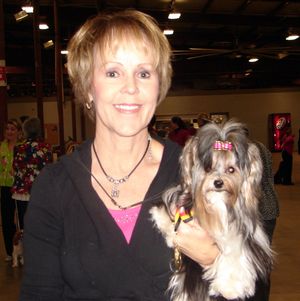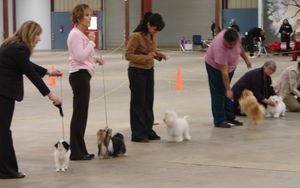 Lasting Impressions of Heaven Sent (Alley)
 Multi National / International Champion ( Lasting Impression of Heaven Sent Biewers)
 What an amazing lady Alley is.  She  has had a whirlwind of a showing career.   At the age of one she has already won Grand Champion Rare Breed Puppy, Reserve Champion Puppy and many Best of Breed, First in Groups and too many medals to count.  She will be starting her adult career in 2011 and we cannot wait to see how she performs again.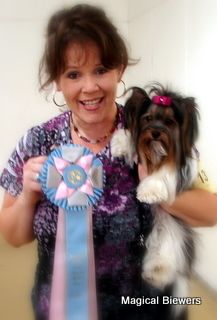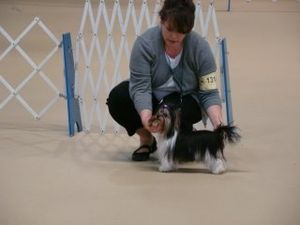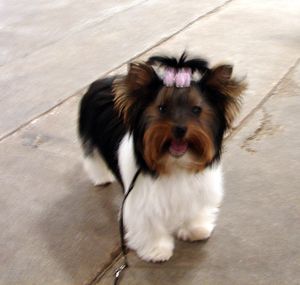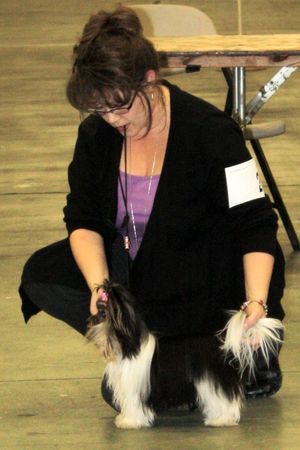 Bailey of Biever Blessings (Finlee)
National / International Champion (Bailee of Biewer Terrier Blessings)   Life has not been the same since "Finlee entered our life.  She is simply one of a kind.  She may be small in statue but she wins your heart in a BIG way.  We knew from the start she was going to be small. (She will not be bred)   That did not stop us from having to have her when we adopted her sister Sidnee.  She will always be the first in your lap and with a face like she has it is very hard to not give her anything she wants.  She also started her show career at 6 months and did a fantastic job.  She received her Puppy National and International Championship at the Hutto Tx and Oklahoma City shows in 2009.  She has not shown again because of her size but don't tell her because she has a SHOW Girl attitude.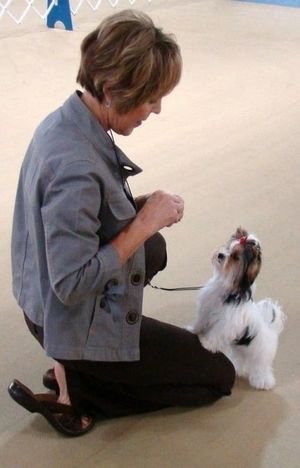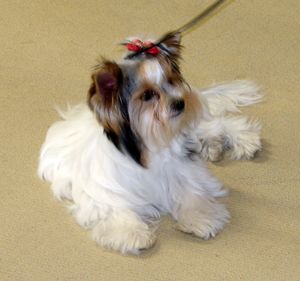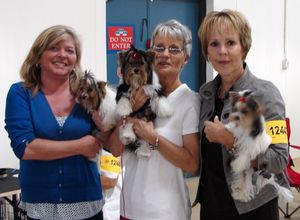 Camus Sierra Boy of Wisteria Biewers (Camus)
 Puppy National / International Champion Camus Sierra Boy of Wisteria Village is a wonderful boy in a small package.  Camus is absolutely amazing, there is not one thing I don't love about him.  He has a fun personality, beautiful coloring. silky coat and an attitude in the ring to die for.  He is all about "me, me, ME when it comes to the show ring. The judges have all made very positive comments concerning him.
He started his career at the Specialty in Florida and did very well. He continued to the Orlando  IABCA show and strutted his stuff against the larger Biewers. At 5 months he won his class and competed in best of breed.  He again showed in Hutto and did very well, winning his class and going forward.  We expect great things from Camus and he will begin showing again in early 2011.